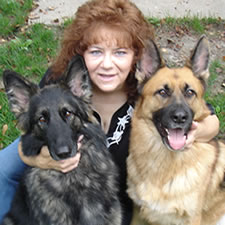 I'm the "Mom" that Riley and Nissa keep referring to.
My furkids are absolutely right, I *am* positively whole-heartedly nuts about them! In a way this web site is my tribute to them because they give me so much. If you're not an animal lover, I don't expect you to understand, but I have no doubt that those of you who have critters in your lives will get it in a heartbeat!
Looks like this adventure will also be self-therapy for me in that I will get to put a bit of my creativity to work. As the owner of my own web design company, it's my job to work for the client and give them the look they want and what's best for their business. Here, I get to play with colors and designs all my own! Another bonus for me is that I get to do one of my favorite things – talk about my furkids :-)
Making a DIFFERENCE
I hope my efforts will in some way help the that work so hard to help dogs in need, remove them from cruel and inhuman living arrangements and to give a chance to dogs that otherwise may be put down. Developing web sites is what I do and until I am able to move out of the city into the country with appropriate living space to house dogs, I decided to do what I can in the mean time.
It's been quite the learning experience to take these two characters into my heart and home. I feel I've done a pretty good job. Riley and Nissa are wonderful dogs, they're well behaved and have the absolute best personalities one could ask for in a dog.
SAYING GOOD-BYE to Our Yorkies
A couple of years ago both my husband and I knew it would only be a matter of time before we'd lose our beloved Yorkies. They were old and all three of them were living with congestive heart failure. Lucky for us, they all lived quite well with their illness until for each of them, the end came quickly and with very little suffering. We went totally against the grain of our "dog lover personalities" when we decided that when the Yorkies were gone that we would not get any other dogs. We told ourselves that we wanted to be free to do what we wanted when we wanted without having the responsibilities of dog ownership. I think we both knew in our hearts that eventually we'd break that promise.
We had just one Yorkie left when my husband decided he wanted get out of factory life and hop back into an 18 wheeler. This left me home alone during the week. For awhile it was ok, but the longer I was without my Yorkie, Damien, the more I missed having my special guy around. He was my alert dog and at seven pounds, thought he was as big and tough as a Rottweiler! If anything was amiss he would let me know in plenty of time to investigate and make a phone call if help was needed. Over the years, Katy and Crocket had pretty much become my husband's dogs.
From Yorkies to GERMAN SHEPHERDS
About six months after Damien died, the urge to get another dog just wouldn't let go. I fought this for awhile but eventually I failed. I found I REALLY wanted another dog and a chance to fulfill my dream of having a German Shepherd. I knew I wanted to find one that really needed a home, a rescue or shelter dog. I never considered looking for one through a breeder and so I talked to my husband, he agreed and my search began.
We were approved to adopt through a rescue about 40 miles away. I never knew one had to go through such a process in order to adopt a dog but that was ok. I was on a mission and bound and determined to find "MY dog." We met two dogs through that rescue that turned out to be just not the dogs for us. I also had our application in at two or three other rescues and we were waiting for dogs to meet through them.
Then Came RILEY
Although his photo showed he was absolutely gorgeous and his eyes and facial expression were tugging at my heartstrings, Riley (then called "Fox") was number three on my list.
Initially what put meeting him on hold was the fact that he was three hours away. With my husband being gone so much, it's difficult for us to get enough time together to make long trips. But I also knew that my husband and I are the kind of people that when we want something … a road trip never gets in our way. ;-)
When both of the dogs we'd met didn't work out, it was Riley's turn. I was apprehensive to make the drive after the two disappointments through the first rescue. I truly didn't want to drive three hours only to be disappointed again. The night before we were to leave I told my husband I wanted to call it off but he was convinced that we should go. Having very little hope left in me, I dreaded every minute of the drive. As it turned out, it's one of the best things we've ever done!
Judi invited us into her absolutely gorgeous home and we talked for some time. We were all concerned about the fact that Riley, at seven months old, would be more interested in playing than Katy's 14 year old "I want to sleep and be left alone" attitude. If nothing else, Riley could seriously hurt her just by stepping on her by accident not to mention that he is of course a German Shepherd and Shepherds can have that prey drive. In our hearts we felt there would be a GSD for us that would work out great with Katy, we just had to find him.
Eventually, Judi went to get Riley. We watched out the window, and as he came into sight both our hearts stopped and I could not contain my tears. He was absolutely GORGEOUS! My husband and I looked at one another and back at this beautiful dog. Judi brought him into the house and he made a circle around the room doing what dogs do, nose in high gear … sniff … sniff … sniffing everything … as we watched, literally in awe. He sniffed my husband him up and down and then came over to me. He plunked himself down in front of me, gently put his face in my lap and looked up at me with his "baby browns." I was hooked! Not only was this dog absolutely gorgeous, he seemed to have a very mellow personality! My goal had been to not only adopt a rescue dog, but to adopt a dog that picked me. The only thing left to do was to spend some time with him to get a feel for his personality and to introduce him to Katy and see how he was with her.
My husband went to get her from the car, brought her in safely tucked inside his jacket and sat down in the chair. Riley wandered over, sniffed, planted one big slobbery kiss on her face and walked away!
My husband's words were "I think you've found your dog!" I certainly wasn't going to argue!