Hello Riley's Place readers! I'm so excited! I'd like to introduce you to Chelsy Ranard who's written this guest article for our website. I just love her article and the fact that it's about serving pumpkin to our dogs which is in most cases a very healthy and loved treat for our furkids! Welcome, Chelsy and thank you so much for the wonderful article! I hope you'll consider being a contributing author in the future!

---
In just a short time it will be the pumpkin time of year again! Pumpkin spice lattes, chilly nights, warm sweaters, pumpkin carving, and leaf raking is just around the corner. As the temperature begins to drop and the pumpkin products start to rise, the craving for the sweet taste of pumpkin begins to overwhelm the senses.
Believe it or not, your dog enjoys the pumpkin trend as well.
When I adopted my German Shepherd, Titan, he came home with a few issues that we needed to sort out. He was anxious, skinny, and had tummy issues. We put him on a great, protein-rich dog food that we were told would be great to help him achieve a healthy weight and normalize his stool. After a few weeks, his weight was improving but his stool was not. After talking to a vet, we decided to try a different food and some canned pumpkin and the results were great. Exocrine Pancreatic Insufficiency is most common in German Shepherds so it was important to rule this out with a veterinarian before trying other options. We added some pumpkin to his food and he was in puppy pumpkin heaven. I decided I wanted an easier way to feed him pumpkin, so I made him some pumpkin treats. Now, milk bones just don't excite him like they used to. It's pumpkin or nothing for my pup these days.
Pumpkin is packed full of fiber, beta carotene, magnesium, potassium, iron, zinc, and vitamins A and C. It is low in fat and cholesterol and, most importantly, tastes amazing. For your dog's digestive tract, pumpkin has the ability to help your dog with loose or hard stool problems due to its high fiber content. The fiber acts as a binding solution through their digestive tract that absorbs excess water that helps with problem stool. Pumpkin is composed of 90% water as well which can help add moisture to your dog's diet when dry dog food tends to lack in that area. For a healthy treat and a snack your pup will enjoy, try this easy recipe for pumpkin dog treats:
What You Will Need
•    Large mixing bowl
•    Rolling pin
•    Measuring spoons
•    Large cookie sheet
•    Wax paper
•    Small cookie cutter
•    One can of 100% pure pumpkin
•    One egg
•    Flour
•    Cinnamon
(Note from Riley's Place – We recommend Ceylon cinnamon for it's anti-inflammatory benefits!)
Steps
•    Preheat oven to 350 degrees
•    Combine one cup of pumpkin, one teaspoon of cinnamon, and one egg in bowl and mix well
–Be sure to use real pumpkin and not pumpkin pie filling. The ingredients in pie filling are not good for your dog.
•    Add flour ½ cup at a time and knead until dough forms
-If there isn't enough flour the dough will be very sticky
•    Roll dough onto a piece of lightly floured wax paper•    Use small cookie cutter to cut into bite sized treats
-For smaller dogs you can cut the dough into smaller pieces with a pizza cutter
•    Line treats on non-stick cookie sheet
-The treats will not expand so they can be close together on the sheet
•    Bake for 30 minutes
•    Let stand until cool
•    Store in the fridge
-They will be good for about one month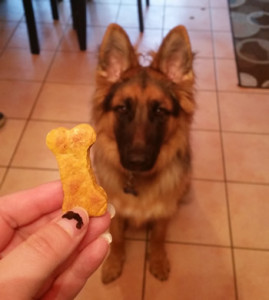 These pumpkin treats are crunchy, tasty, and for sure Titan's favorite thing in the world; second to his Frisbee, of course. At the end of it all, I have a great treat that I made myself, a house that smells like pumpkin pie, and a happy pup. When dealing with an animal with ongoing tummy problems, be sure to visit your vet. Whereas pumpkin is great to keep your pup's digestion in order, it is not a solution to ongoing issues that may become more serious if left untreated.
Be sure to be aware of safety issues that can be involved with making pet treats at home. There are many common household foods that are toxic for your animals and should be avoided at all costs. Also, there are some ingredients previously considered safe for your pet that may not be safe if you don't pay attention to the ingredient label. Xylitol, for instance, is extremely toxic for dogs. It is an artificial sweetener that causes liver failure in dogs. It is most commonly found in sugar-free gum, sugar-free candy, or medicines. Those products aren't seen as safe for pets anyway, but very few pieces can lead to serious health issues for your dog. Peanut butter, however, is usually used as a great treat for pups and popularly used as an ingredient in treats made at home. Unfortunately, some peanut butter products now contain Xylitol so be sure to check the label before cooking!
While saying goodbye to summer and welcoming the crisp air of fall, remember to include your pup in your pumpkin frenzy. Grab a blanket, a cup of your favorite pumpkin spice coffee, a pumpkin treat for your pup, and cuddle on the couch while you both enjoy the pumpkin amazingness that always tastes better when the leaves are changing color.
---
Author Bio: Chelsy is a writer from Montana who is now living in beautiful Boise, Idaho. She graduated with her journalism degree in 2012 from the University of Montana. She is passionate about animal welfare, enjoys nights at home drinking fruity wine, and is the proud GSD mom.