Seems like just when I think I'm going to have time to catch up on answering blog posts here something happens to get in the way of that. This time we're talkin' some super serious stuff and it's not Riley this time … Nissa was diagnosed with cancer this past Thursday. There have been numerous runs to the vet specialists (about 35mi one way) significant time on the phone, in the vet's offices, and beginning my research.
I'd like to share one of the best resources I've found so far, The Dog Cancer Blog which is the link to their main website. Unfortunately, their navigation isn't real user-friendly. The blog itself is not linked in the navigation so here is the link to the blog.
I thought hard about finding a more pleasant photo to post so you wouldn't get grossed out and I even started looking for one — but what would you learn from that? That I can pick out a nice photo for something so ugly? How's that going to teach anyone about cancer? So, I finally decided that since I try to tell it like it is here because that's how we get educated … that you may as well see a photo of Nissa's butt because that's where her cancer is and you may as well know what the heck it looks like so if you see anything similar on your own dog's butt you will not waste any time getting him or her to the vet. The photo top left is what her growth looked like in April when it was found and diagnosed as a probable perianal fistula for which we began treatment which failed to help her.
Oh, those aren't mouse turds in the photos. Please excuse the pooh residue … she's normally a very clean girl but the diarrhea keeps coming back and we haven't been able to bathe her back there for fear of aggravating the growth or causing her more pain. I wish I had an accessible hand-held shower so I could at least rinse her with some warm gentle water, but we don't have suitable bathtub accommodations and she's way too big for our stand-up shower.
A Brief Description of Her Symptoms
She had intermittent bouts with diarrhea and vomiting which started about January. She's always been our girl with the iron stomach so this is very odd and worrisome. Our then-vet told us to put her on pepcid for the vomiting because they felt it was a simple case of her stomach acids changing which supposedly happens sometimes as dogs age. For awhile the pepcid did seem to help — until it didn't anymore and I still kick myself for not digging deeper then. We put her on metronidazole for the diarrhea as needed which was super scary because of what happened with Riley and his metronidazole toxicity but we put her on half the dose that Riley was on. That helped the diarrhea but a few days after each 7 day metro-routine the diarrhea came back.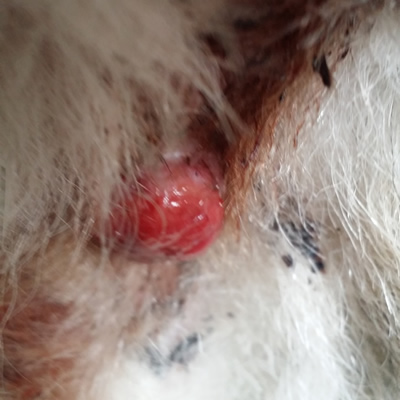 In the meantime, this disgusting ugliness on her butt changed … and got larger and instead of being flat and sometimes slightly indented it began protruding quite noticeably. It was time to head to the specialist for all three issues and time we got to the bottom of everything. Thank goodness I didn't wait any longer.
We don't know yet if the vomiting and diarrhea that started back in January is related to this, if it's something else or maybe just her age like our then-vet advised. I tell ya, if something like this ever comes up again I'm not wasting any time getting any of our dogs to a specialist.
What Came Next?
Yesterday she went for chest x-rays to try to determine if the cancer had spread to anywhere in her chest like the lungs for example. Thank goodness they couldn't find any evidence of it having spread. A big weight fell off our shoulders with this news.
For the time being I have to be brief because we're headed out for her surgery in a couple hours and I need to order some supplements for her before we leave. I'll re-visit to add more as we go through the process. You're invited to check back for updates.
After Surgery Update
I'm SO happy to report that surgery went very well! The surgeon believes she got it all but of course the pathology report will be the deciding factor there. That takes 10 or so business days. Even better news, they didn't have to take either of her anal glands, the tumor was all on the outside of her body! Yeeeee Haaaaaa! It was also far enough away from her sphincter muscle that she should not have any trouble with incontinence which is common if the surgery involves the sphincter area. I was afraid she'd have completely shaved rear end … bald bald bald ya know? But unless you know just how much fur she's normally got back there you'd never notice.
I wish I'd have had a movie camera going when I walked her into the house. Both Gracie & Riley knew something was going on (of course they did – they're dogs!) and they very gently each gave her a kiss on the face. It was precious. Gracie, who's our "Wahooooo!' girl was on her best behavior.
The first day after surgery she was your typical after-surgery-loopy pup and she mostly slept. She was really woozy from the anesthetic, it was like she was drunk complete with the glassy eyes thing going on. I took her outside soon as I got her home because she'd been cooped up in a crate of course with water and probably not let outside as she needed but when they have their potty breaks and I don't know how that works. If it weren't so serious it would be funny to see her pee and then stagger back towards the stairs. When I tried to help her she stopped, looked up at me with her drunk-y eyes and proceeded to just slide gracefully to the cement and then stare up at me, complete with the typical drunken wobble-head. I just held her there for awhile, it was a very sweet moment.
Got her back in the house and she pretty much didn't move for the rest of the day. I slept in my recliner downstairs (if you can call that sleep!) because she wasn't allowed to do stairs and as "drunk" as she was I wouldn't have allowed it anyway. I don't know that I could stop almost 80 pounds of dog from sliding (or tumbling) down the stairs on my own if she lost her footing. She was a little better the next day but she was still on tramadol for pain for that and the next day or so. She doesn't seem to need the tramadol anymore so I stopped it.
We may still pursue a colonoscopy if her diarrhea and/or vomiting return. I'm hoping that even though it was all on the outside that the tumor is what was causing this somehow. The internal med specialist described a colonoscopy for a dog and that it's not like one for people. It's also a very long procedure. I really would not be thrilled to put her through that. But we may be forced to, she's still not eating all that well so we'll see what she's been like when she goes to get her stitches out. She's never been one to refuse food but has been off and on since January.
So, that's the current update. Now we wait for the pathology report. Thanks to all who stop back to read the update!