I received a private email from one of our website visitors about the death of one of her pack members that about broke my heart. The fact that her dog passed away is heartbreaking enough for a pet lover, but the visual I got when I read the circumstances surrounding her dog's death are very disturbing for me.
Natasha and her family shared their home with four dogs until tragedy struck.  Unknown to them, the previous owner of the house this family had recently moved into had set rat poison under the house which unfortunately, their dogs got into. From what I know of rat poison, Max suffered an extremely painful death. It was Natasha's tireless determination to find out the cause of her dog's illness and caused Max's death that led to the discovery of the rat poison.
When they found their dogs were ill they took them to the vet and did everything they could to save them. It's all too often I hear of people just putting their dog down when they are facing expensive vet bills that could save their pet's life and so it's a heartwarming surprise when I hear of a family who spared no expense to save their poisoned furkids. Unless their vet is a family friend or relative who provided them with free vet services, it sounds like they spent a fortune trying to save them.  The family's quick action, willingness and ability to pay for whatever was needed for their furkids, the skills of what must be a very good vet and the determination of their Mom allowed them to amazingly save all but one who didn't make it.
Our Thoughts for MAX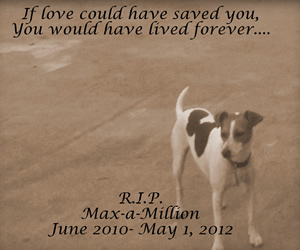 Max, may you rest peacefully and pain-free at Rainbow Bridge. You're a very special boy and your family misses you terribly. Those of us here at Riley's Place would like to thank you personally for helping your pack member Jesse to overcome her issues and become a treasured family member.
Jesse BEFORE Max's Death
Natasha told me how her 87 year old Father had first rescued Jesse as a young pup about to be put down because the breeder considered her un-trainable?????? There pretty much is no such thing as an un-trainable dog and in most cases where someone thinks a dog's a lost cause, the right owner can turn this around. Due to health issues Natasha's Father couldn't keep and properly care for Jesse and so Natasha and her family stepped in and took Jesse to live with them (thank you!).
It sounds like initially Jesse was quite fearful and insecure, spending a great deal of her time crying and pacing. With Max's help and the family's dedication, Jesse soon became a well-behaved, trained (imagine that!) and loved member of the family. She became quite attached to Natasha and her husband and they believe Jesse loves their toddler aged son but to me it does sound like Jesse prefers adult companionship.
Jesse AFTER Max's Death
The reason Natasha contacted me was actually her concern over the change in behavior that Jesse is now displaying which include barking at people she doesn't know (again). I take this to mean that she had gotten over a fear of strangers which had caused her to bark at them but she learned to trust more and stopped but has now regressed to her previous behavior.
An unexpected incident occurred one day when Natasha's husband was playing ball with a friend's son. Their son walked up to his Daddy and Jesse pushed him down with her nose. Natasha tells me that Jesse's behavior reminds her of jealousy and sibling rivalry.
Jesse is almost always in the company of Natasha and her husband and according to Natasha gets plenty of stimulation. Jesse and Max used to sleep in their sun room together but after Max's death they brought Jesse to sleep in their bedroom.
What to DO?
I do feel that at least some dogs grieve the death of pack members and that like people will deal with grief in their own way and in their own time.
Because it seems that Jesse prefers adults as company makes a good case for believing that Jesse is looking for a pack leader and it makes perfect sense that she would turn to the adults in the home to fill this role.
Not being a trained/certified expert in dog behavior I also consulted with some other experienced German Shepherd owners who've gone through the death of a pack member in order to get some feedback to give Natasha.
In multiple dog households, you will always find a pack dynamic of one kind or another. It sounds like Max was the pack leader and now Max is gone leaving Jesse feeling lost without her leader. My guess is the other two dogs are probably submissive and aren't intending to take over the pack leader roll. Max showed Jesse the ropes when Jesse came to live with this family and so he played a very valuable role in Jesse's life. Some suggestions from other experienced GSD owners:
Up the NILIF (if you practice this) in a kind way.
Spend some special time working on obedience in an upbeat way to reinforce the human leadership role.
She may need some reassurance and to find a new way/other pack member/person to bond with in a different way.
Find new patterns that involve the human(s) and the dog working as a team, showing her that now there's a new pack.
Although you say she gets plenty of stimulation, perhaps changing the stimulus to new interests may help get her mind moving away from grief. If you don't currently participate and can afford to you might look into structured dog activities such as rally, obedience, agility or tracking for example. Some of these are very inexpensive, so you don't have to break the bank to participate.
I read somewhere that dogs who sleep in our beds may be more likely to display resource guarding behavior. (More on resource guarding below.) You might want to have Jesse sleep with the other dogs in the sun room which was her "norm" before Max passed … putting some "familiars" back in her life might help her deal with things.
Although Jesse's current behavior resembles sibling rivalry or jealousy it also suggests Jesse is displaying a behavior known as "resource guarding."  Jesse is very attached to Natasha and her husband and so pushing the little guy down *may* have happened no matter what.  Max's death may have little or even nothing to do with it. It sounds like their little boy stepped in between Dad and Jesse and Jesse feels Dad is "hers" and doesn't like anyone getting between her and "her property." Since that's the only issue with the child that Natasha shared with me it's hard to tell without more information on Jesse's interaction with the little guy both before and after Max's death.
Many people associate resource guarding with food and toys and some regard it as a dog-to-dog behavior which sometimes results in a dog fight or the dog growling (or worse) if you try to take food away from them. In reality, resource guarding relates to anything a dog feels is valuable to them and/or believes to be his or her property including what they consider to be "their" people. Yeah, you and me both thought all that protection stuff meant our dogs love us and protect us from evil. You may have to change your thought pattern …
What is RESOURCE GUARDING?
I did a bit of Googling and found a couple of good definitions of resource guarding which I've included below:
Resource guarding (RG) is when a dog has possession of an object that HE thinks is valuable, and is growling/snapping/biting in an effort to protect/keep that object. This link will take you to a post on this topic at dogforum.com in case you want to read more on what they have to say.
Dogs may guard food, bowls (even when empty), bones, toys, and locations (such as their bed, your bed, a favorite piece of furniture or a location in the house). Dogs may also guard seemingly unimportant items such as tissue, pens, shoes or other such items they may steal or find on the floor. Dogs may even guard people. This link will take you to an article  at lindabrodzik.com in case you want to read more on what she has to say.
It was suggested that Natasha read the book "Mine" A Practical Guide to Resource Guarding in Dogs written by Jean Donaldson. I'll also be reading it very soon! The link directs you to the book at Amazon.com.
__________________
If I understood Natasha correctly, Jesse is currently about 7 months old and so still very much a pup. In my opinion whatever they are it's imperative to get Jesse's issues under control, especially because there's  a child in the home. If it's resource guarding it can become dangerous in a heartbeat and without any warning. I hope you will follow the suggestion to never ever leave a child unattended with any dog (I've read about a Pomeranian killing an infant!). This would be particularly important with a dog that could be displaying resource guarding behavior. Natasha, to your credit you didn't quit until you found the cause of Max's death and I'll bet you won't stop until you find out for sure what Jesse's issues are and turn her negative behaviors around. We're rooting for you!
You might want to locate a good dog behaviorist in your area and get some help. I would be curious to know if a respectable dog behaviorist agrees with what we think is probably going on with Jesse.
We hope that this helps you, Natasha, and anyone else experiencing this kind of behavior in their dog. I hope you will keep in touch here on our blog and let us know how it goes. Best of luck!
Do you have a thought or suggestion about Jesse's behavior for Natasha?
___________________
I'm new to learning about resource guarding myself. The links given in this post are not to be taken in any way as endorsements of any kind. It's also important that readers understand that given the information we have, we can only make an educated guess regarding Jesse's behaviors. We are not diagnosing Jesse and providing a cure nor are we responsible for any resulting issues dog owners may experience by following any suggestions found here.