This past month has been depressing, maddening and exhausting for me and painful and depressing for Riley. Since he was diagnosed with SLO I've spent mega-hours on the Internet researching Symmetical Lupoid Onychodystrophy. I want to share our experience with it and what I've learned so far because one of the things we work hard to do here at Riley's Place is to try to help educate people so they can be better dog owners with happier, safer and healthier dogs.
I've had several crying jags and for a full solid day and a half I was so angry about the pain he's in and what's happening to him that I wanted to punch out every wall I could find. I managed to get through it without punching or trashing anything but it wasn't easy. Because his disease was more likely preventable than not, I wrestle a lot with my guilt over not knowing this could happen and the "if onlys" which are tough for me to work out in my head. Beating myself up over this isn't going to help Riley and I have to keep reminding myself of that — but reminders don't make my guilt go away.
So, I'm going to continue the saga of Riley's broken nails in the hopes that I can save at least one dog from getting it. Please remember that I'm not a veterinarian nor do I hold any licenses or certifications in any veterinary medicine field. I am simply sharing what I've learned through my own research and experience with our Riley's SLO.
What is Symmetrical Lupoid Onychodystrophy?
SLO is an autoimmune disease which affects the toenails. Autoimmune of course means that the body is attacking itself. SLO occurs when the dog's body forms antibodies against their own toenails, it's like the body launches it's own private war which destroys the dog's nails. Some of you may think "So big hairy deal! They're just toenails, they'll grow back." I got a news flash for ya — it's not that simple and it is a big deal mostly because it's so painful for them. There was one article I read titled "Hell's Nails" which is absolutely right-on target!
What are the Symptoms of SLO?
I combined the symptoms found on the Grassmere Animal Hospital and Bloodaxe websites into one list:
multiple nail loss from more than one paw – eventually all nails will probably be lost
licking the nails
visible oozing around the base of the nail
receding quicks
separation or splitting of the nail from the quick usually on the underside of the nail
nails "lift up" like you lift the hood of your car or a hinged jewelry box
pain and limping
distorted or twisted nails
discolored or rough looking nails or quicks where the nails used to be
infection often with a strong odor
lameness
How is SLO Diagnosed?
A definitive diagnosis can only be achieved through a biopsy. Because a toe must be amputated for biopsy this is considered an extreme measure and is only performed if absolutely necessary. The symptoms themselves are alarming and definitive enough that in most cases the dog just begins treatment. Our vet first consulted with the Dermatology department at U.W. Veterinary Hospital in Madison, WI and they advised her to not even bother with things like cultures or biopsies. Based on his symptoms — SLO was the only possible diagnosis.
What Triggers SLO?
Since SLO is still considered a rare disease at this point in time, unfortunately no one knows 100% for sure what causes it. There are a number of studies on it with various possibilities including genetics, vaccinations, allergies and one site even mentioned a dog that was diagnosed with hypothyroidism at about the same time he was diagnosed with Symmetrical Lupoid Onychodystrophy. Even if one day someone figures out what causes SLO, we may learn it's not just one single thing.
One thing I consider strange is that after years of being on the same dose of thyroid medicine, Riley's annual blood test for his hypothryoidism came back just a tad on the high side. On retest three months later the results were the same and was originally attributed to him having gotten older and simply needing a dosage adjustment. Whether or not his hypothyroidism is involved somehow we don't know for sure but because of that and the timing, I suspect it is.
German Shepherds are one of the breeds most often diagnosed with SLO and this is where genetics may play a role. But the actual trigger for Riley's SLO we now believe were the normal common annual vaccinations he received in April. Although he may be genetically predisposed to being a victim of SLO, everything falls into place and points to the vaccinations as being the actual trigger.
Neither of our dogs will be receiving any more vaccinations of any kind — ever. The one vaccine I may not be able to get around is rabies but I'm going to find out if I can get a medical exemption for both our dogs — especially Riley. The state of Wisconsin does have a medical waiver law for rabies but I still have to find out how this works. I will be speaking with our city health department and other city officials and if I can prove through obtaining a blood titer test which shows he's still protected from rabies it just might work.
It's looking like the rabies vaccine may protect a dog for at least five and as long as seven years now! More information on this is available on the Rabies Challenge Fund website. I strongly suggest you educate yourselves on what over-vaccinating our dogs can do to them. It's not pretty. Our entire country is over-vaccinating dogs (and not just with rabies vaccines) thinking this is what good dog parents are supposed to do to keep them safe from disease. Today's reality is that most dogs are likely protected for many more years and sometimes for life by the vaccines they received when they are very young. All these annual vaccines we give our dogs is doing them more harm than good. Seriously, learn more about this.
Is there a Cure for SLO?
SLO is forever, currently there is no cure and it's not contagious. This is a lifelong illness that one can only attempt to manage with treatment. Even if you get it under control, it can flair up at any time and there is no guarantee you will be able to get it under control. Some say summer seems to be a popular time of year for SLO flare ups.
What is the Treatment for SLO?
Antibiotics are prescribed (Doxycycline is popular for SLO) along with a version of vitamin B called Niacinamide. Add fish oil (salmon oil is suggested as being the best fish oil for this) and vitamin E as you always should give vitamin E along with fish oil. He cannot have any dairy products (he misses his fruit yogurt mixed with cottage cheese desserts!) because dairy products bind with the antibiotic making them less effective.
A word of warning, when giving your dog higher than normal doses of things like fish oil and vitamin E be wary of injuries that bleed because these products can cause anticoagulation of the blood among other risks. Over time fish oil can deplete the body of it's normal vitamin E so you give the vitamin E to prevent this deficiency.
If you suspect your dog is suffering from SLO, please do not just begin treatment on your own. Always see your vet first and get a diagnosis, preferably without a biopsy. A dermatology vet can most likely diagnose without a biopsy. Treatment should be administered only under your vet's care. The pain-killer Meloxicam was also prescribed for him. Riley does not handle pain killers well, they upset his tummy so I did not give them to him every day. I chose his bad days to give him pain meds.
It's recommended to give your dog probiotics when they're on any kind of antibiotic. Riley started refusing to eat his meals and I knew it was because something was upsetting his tummy. Since I hadn't given him any pain meds for several days I knew it had to be something else which turned out to be the Doxy. These meds must be given with food so eating is a requirement for treatment. I picked up some probiotics at Walgreens (they keep them in the fridge in the pharmacy but it's an over-the-counter product) and gave him one that morning. By dinner time he was eating again and has been eating fine since as long as I give him a probiotic capsule every morning.
Niacinamide should not be mistaken for or replaced with what is only thought to be something similar. When I went to Walgreens the first time to pick some up I couldn't find Niacinamide so I asked the pharmacist who told me that the other products I saw on the shelf were the same thing and that I would never find a stand-alone version of Niacinamide. Niacin was just one of these products, it contains Niacinamide but is not directly Niacinimide. I checked further when I got home and found the pharmacist was incorrect. There is a difference and I did find straight Niacinamide at Vitacost. You need the non-flushing formula — the last thing your dog needs is to have to put up with hot flashes while they're suffering from SLO!
I found that the homeopathic remedy called Hypericum Perf. 30X which is for nerve pain seems to be helpful in keeping him from licking his toenails so much. I was waking up and coming home to his dog pillows being literally soaked in doggie slobber from him licking his nails — usually when one is on it's way off. Can you imagine licking your fingers for hours on end? If I keep him dosed on this the licking is minimal and sometimes non-existent.
I just picked up his second month's supply of antibiotics. My vet thinks it's possible he'll have to be on antibiotics the rest of his life. I sure hope not, from what I've found the nail loss stage usually runs 8-12 weeks and then the antibiotics will likely be phased out. DO NOT just stop the antibiotics cold turkey, they must be phased out gradually. Do not phase them out without your vet's ok and only after having been given directions on how to phase them out.
Is SLO Fatal?
I haven't found any evidence that your dog will literally die from it directly but think about this; if your dog gets SLO and you do nothing to help him, he may eventually not be able to walk because he's in so much pain. If your dog can't walk, what's the solution? That's right, you put him out of his misery — he dies at the end of a needle or in some cases — he's taken out into a field somewhere and stares terrified down the barrel of a gun wondering what he did wrong that his best friend is doing this to him until it's over.
At our house this makes SLO a potentially fatal disease. There are too many people who'd not seek veterinary help just because their dog is loosing toenails. They just wouldn't consider toenail loss as something to spend money on a vet for and so their dog would suffer and possibly go lame. I learned my lesson when Riley was diagnosed with hip dysplasia and so we don't mess around if something seems not quite right with them. If our dogs become ill, we do everything we can (cost be damned!) to get them healthy. If there comes a point in time that their quality of life deteriorates to the point they're suffering with no way whatsoever to stop their suffering to the point that we would only keeping them alive for our own selfish reasons, we'll be forced to have them euthanized.
To us this means dogs could indirectly die as a result of SLO. Kind of reminds me of people involved in serious accidents — they may not pass away for months or years but the cause of their death was the original accident or complications from it.
What's Life Like for Riley Now?
He's still not through the nail loss stage so he's still in a lot of pain and limps quite often. To date he's not grown any nails back, all you can see are the quicks that used to have nails covering them and the actual lifting action seems to have slowed. It's now getting to be late August and we originally realized that something was wrong the first week of June with SLO diagnosis in mid-July so it's been a very long summer. Having lost his back nails, dew claws and some front nails his front feet are still being affected. I think it's possible the treatment has slowed the nail loss but I can't say for sure and we haven't had any blood baths in several weeks. The photo below was taken this morning: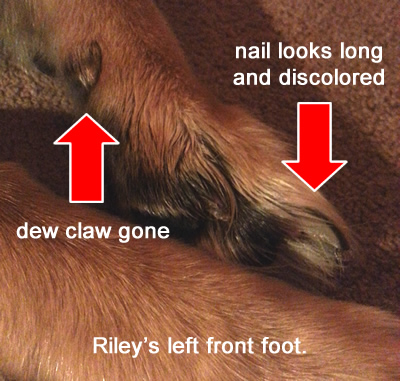 Currently his front feet are flatter than normal and his toes are more spread out. His front nails look long and normally black in color are now various states of bi-color. He walks kinda floppy footed on his front feet, think of a clown walking wearing those huge flat shoes. The walk is exaggerated and he takes more of a deliberate step rather than having a dog's natural gate. Because of his pain our almost daily walks are down to maybe one every week or 10 days. His back feet seem to not be too painful but I really don't think he's totally pain free there either.
He spends a lot of time laying around looking very depressed. The photo at the top of this page is how Riley spent most of his summer. I always thought it would be nice to have a couch potato for a dog, this is not what I had in mind. Where he used to go charging up the stairs when it was time for bed, he now lays on the floor and has no interest in coming upstairs to be with Nissa and me. I don't know how long it takes for him to join us, but when I get up he's always there so he does manage to maneuver the stairs sometime after we are sleeping. There have been a number of instances where his Dad has carried him upstairs because he couldn't do it on his own. It breaks my heart to leave him downstairs but unfortunately, I don't have the strength to carry him upstairs myself. To do so would probably cause us to both tumble down the stairs. I tried this when he had his hip surgery and found out quickly (but without incident) this is not something I can do for him. He can't jump into my SUV so if I have to take him somewhere I have to lift him into my vehicle.
One good day I took them to the field about two weeks ago. I checked first, it had been mowed. I knew he'd probably just walk rather than run with Nissa which is exactly how it went. But at least he got out of the house for a little while into some new but familiar surroundings and just as important Nissa got in a little romp time which she's been cheated out of all summer.
He's lost some weight and looks thin, I'd say he's lost at least 2-3 pounds. That may not seem like much but it's noticeable. His coat has dulled and I'm hoping it's only because he needs a bath badly. I can't see making him stand in pain for several hours just to bathe and blow him dry. That just seems cruel, so we do a lot of brushing and I spritz him with our favorite doggie cologne a couple times a week.
Adding to his discomfort is the fact that he's also blowing his coat the past month or so which is an uncomfortable time for dogs. I tell ya, my boy just can't catch a break.
I really want this nail loss stage to be over and to see new nail growth. That's supposedly when his pain stops and his life can begin to get back to some kind of normal. I also want my Riley back, annoying, irritating quirks and all!
Update – April 18, 2014 – Giving Your Dog Pentoxifylline for SLO
I just had a one-on-one meeting with our vet yesterday regarding switching Riley to Pentoxifylline or adding it to his medications for his SLO. We decided to not put him on Pentoxifylline due to the potential side effects and the fact that he's doing well on his current meds. My vet and I agree that if it's not broke don't fix it and so far his meds are working so why mess with it? We of course don't know what the future holds and are not ruling out use of Pentoxifylline in the future if what he's getting now fails for some reason. Our vet put some notes in Riley's chart on this for future reference. We will however, not just jump into Pentoxifylline if it seems we need to do something different. We would at that point, investigate every available option before putting it into his medication regime.
The potential side effects are alarming for me and our dogs. As our vet described it can be like giving your dog caffeine. It can affect the central nervous system much the same as the theofylline or theobromine does in chocolate which is what makes chocolate so toxic to dogs. Even if it would not be toxic for him, it could increase his excitement level and that's one big thing we do not want to happen in him. He can get quite (overly!) excited enough on his own without help from some drug. You'd know what I meant if you could see him "greet" the mailman every day, LOL! Not pretty!
It's always been my understanding that continued use of antibiotics can cause the antibiotic to become ineffective which is the reason I checked into switching him to the Pentoxifylline in the first place. Don't ask me for the doctor/scientific mumbo-jumbo cuz I don't remember all that, but the basic gist of things is that there are two ways antibiotics work and in the case of using them for SLO as they are used, the antibiotic becoming ineffective is not an issue.  That was enough for me and along with the rest of what I got from our vet, we nixed the use of Pentoxifylline at least at this point.